The start of December seems to herald the advent of Christmas and everyone gets into a flurry of activity. Apart from the preparation of goodies, the Christmas costume is a major source of attraction for kids and adults alike. The most popular Christmas dress is Santa Claus' costume. Nearly every street corner has a vendor selling red caps and a Christmas father face mask. Shops display the Santa dress in their showrooms. All fancy dress parties held at the year end, be it home or office have Christmas father or two in their midst. There are many other characters to be portrayed and so you could try your hand at some of the other alternate Christmas costumes, to be different from the rest.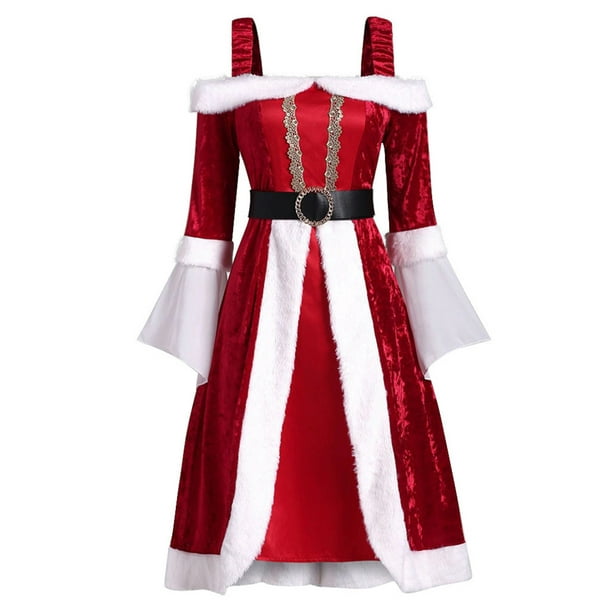 There is a very wide range of Christmas fancy dresses for both men and women and even for children. The women could try their hand at the winter fairy and the angel costumes Christmas Dress. Most of the dresses are made of silk, satin or velvet and come with a fancy head gear. They are outstanding in any Christmas fancy dress party. You may have to buy the wand and the fish net stocking to go with the dress though. If your dress has wings, then you will have to be extra careful while moving among people.
The elf costume come in a various sizes and look very festive with a short green dress, a green bell – tipped cap and green and white stockings for women. There are female reindeer costumes too. Most of them come with the red nose, sometimes you may have to purchase it separately. The naughty Miss Santa outfit and the snow lady are other great outfits to try.
The men have a wide variety of Christmas fancy dress costumes to choose from. They could dress up as Rudolph the red nose reindeer, elves, gnomes and snowmen too. In case you decide to become a snowman and go in for the traditional jumpsuit, keep in mind the fact that it will hamper you movements. There are amusing novelty snowman outfits too. If you want to try your hand at something new, you could wear the adult Christmas tree costume but remember that this outfit will be a problem when visiting the washroom.
In case you want to break the monotony, go for the nativity costumes too. Women can dress up as Mary while the men could dress up as Joseph, the shepherds or the wise men with their bright shining head gears. Kids could wear the Christmas turkey costume or dress up as a lamb or sheep. Generally the most apt costume for babies and toddlers is the Baby Boy Santa Suit. Children do make cute angels and reindeer, too. The kids' reindeer costume is very cute as it comes with an attached hood that has the eyes, ears and antlers too. The toy soldier outfit makes for a very good costume as it is very easy to manage and looks very good on small boys.